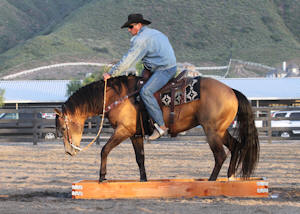 Bill Cameron EXCA National Advisory Board Chairman,
EXCA Hall of Fame Inductee,
EXCA Level 5 Judge
EXCA member since 2008
His background...Bill Cameron grew up in the horse industry and started out training horses and wrangling on movie sets and commercials at early age alongside his father, Denzel Cameron. Denzel was a well known horseman in Southern California that could train just about any animal. Bill was riding horses before he could remember and by the age of nine Bill was riding race horses out of the starting gates for his father.
When Bill was 12 years old, he and his father started working with Glenn Randall. Soon Bill was working on commercials and movie sets often getting very challenging jobs with the horses. While growing up around Randall Ranch and working with his father, Bill moved out of home and onto a ranch working for a New York movie producer and photographer Gordon Parks Jr.
For the next 50 years Bill proved to be one of the top competitors on the West Coast in reining, cutting, reined cow horse and trail, along with wrangling horses for commercials and television shows. He is known for his coaching of celebrity clientele and horse trainers, as well as creating World Champion horses and the legendary Arabian Cutting horse, Xenophonn.
In 2008 Bill saw a Craig Cameron show on the Extreme Cowboy Racing competition and instantly thought this could be his favorite thing to do. In 2009 Bill entered the Extreme Cowboy Race held at the Los Angeles Equine Affaire and won the prestigious title going against a tough field of competitors. That race changed everything.
Bill then traveled to Kansas to compete in the EXCA World championship in the Pro Division, winning the final go round and placing 4th overall. Since then Bill has devoted the past years to the sport of Extreme Cowboy Racing. He not only competes, but travels the world sharing his knowledge thru clinics, demonstrations, and introducing people and horses to EXCA. He has been interviewed on European television and American radio and newspapers and appeared in many newspapers and magazines thruout the world.
Bill's stallion, Dun It For Money, was the first horse inducted into the EXCA Horse Hall of Fame.
He is a Level 5 EXCA Judge and has designed the courses and judged the EXCA World Championship from 2012 to the present. Bill has made the EXCA World Finals 3 times and the Calgary Stampede finals. Bill has served on equestrian boards in the past and is currently serving on two boards. His mission is to help the equine by educating horseowners and inspiring our youth to become great Horsemen.
(661)350-6577
https://billcameroninternationalhorsemanship.blog/