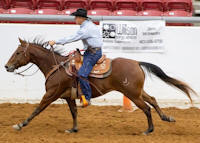 Bob Hill EXCA #31 After having our own business for 22 years, my wife Carol and I retired to our farm on the Tennessee River in my hometown of Florence, Alabama. With working part time at a friend's men's shop, doing volunteer work at church, participating in the Sheriff's Department's Mounted Reserve and of course, working with my horses, retirement has been anything but idle time.
I've been a lifetime member and competitor in the EXCA since 2015. Having watched his television show and becoming a fan of his approach to training horses, I went to one of Craig's clinics in Bluff Dale, TX in May, 2015 as part of my "bucket list". He encouraged me to become a part of the EXCA. I entered my first race that June. I was hooked.
Shango and I were so green, especially me. At that first race in Pontotoc, MS, I met three great guys, Dennis Tipton, Joe Holloway and Dennis Robinson. They pushed me to "Just do it". Shango had a great foundation and I knew he had the athletic ability for the sport. As a former Independent Sales Agent, I've always been up for a challenge. This year, my riding has begun to catch up with his abilities. We began winning our Novice races and started contending in Ride Smart and Intermediate. We are beginning to make the team I had hoped for. This year, for the first time, we made the top ten at World in Novice and Ride Smart.
I have made many wonderful friendships. These friends have reached out with suggestions and encouragement when it seemed to me that I wasn't progressing. I think I have become a better and more patient horseman and a better and more patient person.
I am very blessed to be a part of the Extreme Cowboy Association and honored to have become a member of EXCA Hall of Fame in 2018. I look forward to improving my skills and competing in the EXCA for many years to come.
Thank you Craig Cameron for encouraging me to become a part of your Extreme Cowboy Association.