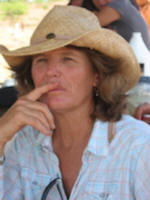 Cece Bulkley: Back in early 2009, I made a trip from my home in Hawaii to Pomona, CA, to the Equine Affair. Previous EA's had a special presenter In the evening hours, but this year was different...scheduled was a horse event scheduled called the Extreme Cowboy Race. Well, I never heard of this but thought it was worth checking it out.
When the first rider started his run through the course, with Craig Cameron commentating, I was hooked. I turned to my friend and said, "This race was made for my horse!" See, my horse, Spirit, had competed in western pleasure and trail classes in Hawaii and won most times. Honestly. I felt these classes were boring for him.
So my motivation to bring the Extreme Cowboy Race to Hawaii was started by watching that Equine Affair event and knowing my horse would excel in this exciting event. He went on to win multiple EXCA events and championships in Hawaii.
I worked hard to build the Hawaii club focusing on advertising and sponsorships and building membership until 2014 when I moved to Aiken, SC. To this day, I miss the excitement of running the race and watching so many EXCA riders improve their horsemanship skills and just have a great time!