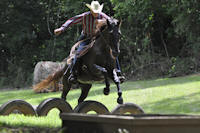 Dennis Robinson I began riding on a TN Walking Horse 25 years ago and am now 75 years old. Time files when you're having fun! Threat's Dark Reflection (Cole, for short) is my second TWH and I've had him since he was 2 years old. This year he turned 20. When you ride and work with the same horse for 18 years, you really become one with your horse. He often knows want I want from him before I tell him.
Some of the adventures Threat's Dark Reflection (Cole) and I have had together include:
1) Qualified for World every year from 2011 through 2019 and participated in 7 of them
2) World High-Point Champion three times
3) Rode in three 100-mile Red Steagall rides in Texas
4) Went on two elk hunting/camping trips in Idaho after horseback riding in from Montana
5) 1,000's of trail riding miles
I will have been married to the same sweet lady for 47 years come Nov 4th this year. I've lived my adult years in Illinois, California, Texas, Michigan, Minnesota & Tennessee, worked 11 years for Chrysler Credit Corporation, became a self-employed car dealer for nine years and have spent the remainder of my working years in various sales positions. My wife and I have raised two amazing children and have five beautiful grandchildren & one great grandchild.
On March 25, 2016 I suffered a heart attack while practicing for an obstacle race with Cole. He knew something was drastically wrong with me before I did, as he nuzzled against me after I dismounted him. That experience made me think about my life after this life is over: Have you ever wondered WHAT DOES IT TAKE TO GET GOD'S FORGIVENESS AND ETERNAL LIFE? I sure thought about it that night and was glad I had already given my life to our incredible God through the spilled blood of our blessed Lord Jesus Christ.
Romans 6:23 says, "The wages of sin is death, but the gift of God is eternal life through Jesus Christ our Lord."
Eternal life is a free gift from God if you will accept it along with His Son, Jesus Christ, as the Lord of your life. Nobody knows how many days they'll have in this life, but I was sure glad I had decided to give my life to Him before my heart attack. I hope and pray you'll make the same decision. My heart attack reminded me how truly blessed I really am!