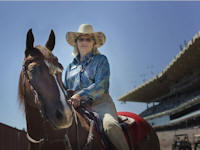 Doris Heintz What an honor to be the 2017 EXCA Hall of Fame inductee. I was born in Didsbury, Alberta, Canada in 1935 and today reside on our beautiful farm in the southern Foothills of Alberta. I have always loved horses, I guess you can say I have ridden horses all my life because when my mom was pregnant with my twin brother and I, she would bring the cows in for milking by horseback. In the first grade along with my sister and 2 brothers we would ride our ponies to our school 2 miles from our family farm. We moved off the farm in elementary to Calgary, however I was lucky enough to ride horses during summer holidays at family or friends.
Horses have always been a big part of my life as my grandfather brought the American Saddlebred to Canada in 1907. After marrying my husband Roger, the American Saddlebred was the first horses that we purchased. Our horse ownership grew and with my husband becoming one of the top trainers in Canada and the Quarter Horse became our life and our 5 children all became interested in showing horses.
At the Quarter Horse shows, the Trail class was always my favorite. When EXCA came along, I really enjoyed the speed and exactness of doing the obstacles. I have been fortunate to compete on great horses over the years in many events. A couple highlights over the years were; the 1979 American Quarter Horse World Championship Show where I was top 8 in the Junior Trail class and 2009 I was in the top 10 in the Canadian Senior Pro Rodeo Barrel Racing.
My little horse Happy seems to know what I can handle and babysits me. I may not always win the class, but I always enjoy the go. In 2014 when he was 4 and again when he was 5 (2015) we qualified Top 11 and attend both years at the EXCA World Finals. At the EXCA World Finals in 2016 Happy and I were in the Top 10!
It is an incredible honor to be inducted into the EXCA, I would like to thank you all so much for the beautiful buckle, I will always feel very honored to wear it. The only thing that surpasses receiving this buckle was the 60 year with my husband Roger, children, grandchildren & great-grandchildren. I look forward to competing in the EXCA for many more years. Thank you again to everyone that has made the EXCA so much fun for me over the years.