DUN IT FOR MONEY:
"The First Horse Inducted Into the Extreme Cowboy Association's Horse Hall of Fame"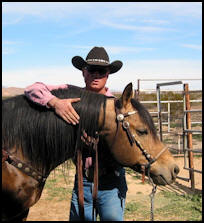 His Story
Bill first laid eyes on Dun It For Money as a yearling where he was in a pen with other colts. Bill, knowinghe was too expensive for him, purchased another colt who turned out to be a champion. Bill could not
get him out of his mind. As a three year old, he was then sent to the NRHA Futurity where he placed in
the finals.

The following Spring Dun It For Money was shown at the Olympic Trials in Burbank. Bill sat in the standswith the owner as they watched a hot mad stallion stop and refuse to go any more. The rider threw his hands up in the air and rode out of the arena. The owner ran over and grabbed Dun It For Money from
the trainer.

Bill did not see him again for 6 months and Bill still could not get him out of his mind. When Dun It For Money went up for sale, Bill sent for him. At the time that he arrived at Bill's ranch, he was upset at the world and came out of the trailer on his hind legs rearing and striking. At that moment, Bill decided thatDun It For Money wasn't ever going to leave his side. You see, both were at a very similar stage in their
lives and when they looked each other in the eye, there was a silent understanding.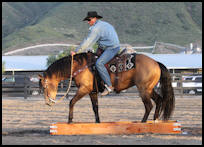 With a month of horse trading and negotiating, Bill was able to purchase Dun It For Money. This was the most incredible moment in Bill's life. Bill led him down to his arena and with eager anticipation Bill
mounted him. Dun It For Money promptly reached around and grabbed Bill's leg with his mouth and
took him to the ground. Bill pulled his head around, got him up, and got back on. Away they went on
their first trail ride together. He blossomed very quickly and never once did he show any signs of
quitting or getting mad!

The following summer Bill decided to enter him in the prestigious Santa Barbara Fiesta Rodeo and Stock Horse show him in Open Reining. They won it! Bill then entered him in the Monterey National Horse
Show Open and again they took the championship title. Bill and Dun It For Money moved to Rosamond, CA where they occasionally showed at the local level. Not wanting to do reining with Dun It anymore
they just played around roping , team penning, and working cattle. When Dun It For Money turned 15
years old, Bill decided to retire him to the occasional trail rides only.Dun It For Money was not happy
and grew over time to become mad and resentful over non use.

With the 2010 Extreme Cowboy Association "EXCA" South Pacific Regional Championship just three days away, Bill decided to pull him out of his pen and try him on obstacles. To Bill's surprise
he loved it! In this first EXCA race, Dun ItFor Money had to jump, drag logs, and go over teeter
bridges for the first time becauseBill had not had a chance to introduce him to them. Dun It did not
refuse one obstacle! They placed fourth in the Regional Championship with only 3 days preparation.
Their first run video is the most posted and viewed globally and still is the favorite.
Dun It For Money's first EXCA Run ever: https://youtu.be/JL7irCOANXU.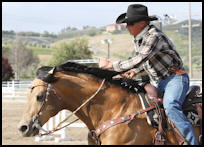 Three weeks later Bill took Dun It For Money to the Vaquero Days EXCA race in Desconso, CA where theywon the Pro title. A few months later Bill took him to the EXCA World Championship where they made
finals and put on the first match race against Lee Hart. The first EXCA Match Race Bill Cameron vs Lee Hart: https://youtu.be/pzvyQ261drQ 2010 World Finals 2nd go: https://youtu.be/edpDJNO-doA
The Equine Affaire EXCA race was a couple months later where they placed third against California's toughest competition. Equine Affair Final go: https://youtu.be/CD_AcBRrSIs

Soon after they competed at the California Cowboy Racers EXCA event and they won it! This was his last race. Dun It For Money last EXCA Run: https://youtu.be/Uf74fZC639U

Shortly afterwards, on May 24, 2011 at approximately 2:43 pm, Dun It For Money had a heart attack while breeding a mare and died in Bill's arms.
His legacy lives on thru Rickashay Dun It (2014 EXCA South Pacific Regional Champion, qualified and went to the EXCA World Finals twice), Laredo, and La Cody Dun It; all of which Bill's owns.

In Craig Cameron's words, "They were unstoppable"and on November 4, 2012, Dun It For Money was
the first horse inducted into the EXCA Horse Hall of Fame.