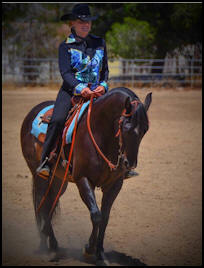 Evon Kurtz - Evon has been involved in EXCA since 2008. Although she never has shown in equestrian events until 2013 (EXCA being her first show experience), she has brought on board her talent in Corporate Real Estate sales and marketing, holding a certification of completion in the prestigious Institute of Residential Marketing Program. With a strong background in computers, and being a professional videographer and photographer, Evon has been an asset to EXCA in promotion of the sport.
Evon has put on EXCA events since 2013, with her proudest event being the Ventura County Fairgrounds Cowboy Classic annual races where she runs and announces the race. She has attended and helped Craig Cameron, Frank Turben, and Bill Cameron at the World Finals since inception of the Association.
How EXCA was first introduced to Europe.
Evon started chatting online with one of Bill Cameronís students who resides in Sweden, Linda Ohgren. They teamed up and brought their coach Bill Cameron to Sweden where Bill introduced Sweden to the sport of Extreme Cowboy Racing. Within a few days of arrival, many other Europeans from surrounding countries including Andre Veris of Belgium visited and watched Bill. With an epic demonstration the following year at the most prestigious annual Swedish rodeo competition, Chaparral, where Bill was live streamed across the globe performing for over 4,000 people in person, Bill had Europe hooked!
Since 2013 Evon has worked diligently to build International clubs and membership. She has been responsible for bringing on board and coordinating events in: Sweden, Slovakia, Hungary, Belgium, France, China, and guided Johnnie Clem in the formation of the first Australian EXCA club.
Evon is the International Advisory Board Director has been and is always available for EXCA International clubs in assisting them with questions, concerns, and starting up their clubs. She inspired the first translation of the EXCA Rulebook in a foreign language.
Evon assists Bill Cameron (EXCA President of NAB) with his EXCA office responsibilities, booking his International EXCA ventures, and works by his side during the year in promoting the sport of Extreme Cowboy Racing in Untied States and overseas. She competes in Extreme Cowboy Racing in the Green horse and Non Pro Divisions. Her current EXCA horse is Rickashay Dun it. This team acquired the title of 2014 EXCA South Pacific Regional Champions, in the Green Horse Division.