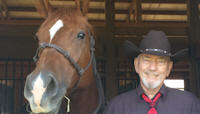 Joe Holloway: I have always thought that horses were very magnificent creatures but had no firsthand experience with them growing up – or for that matter – not until very late in life. Then, when I was 72, Dennis Tipton, a friend of mine who had been riding in EXCA events, found that my wife, Sunny, and I had been volunteering at a horse rescue. He invited me to come and ride with him using one of his horses – Solanos Moonlite Run, aka "Annie". Annie came from a Montana ranch and "knew the ropes". Problem was – I knew little to nothing. After some coaching and a couple of months riding Annie in an arena, Dennis suggested that we attend an obstacle clinic in the Mid Atlantic Region of EXCA. We attended and I did some slow motion work on simple obstacles and then had a "fun race". Happily, I was still mounted at the end of that race and joined EXCA. The rest is history.

After a couple of races it became very evident that I had better learn fast if I wanted to stay safe and ever be able to compete. It took about 3 and one half years to learn enough to reasonably take Annie through a race (at the Novice level). When asked what it was like learning to ride at age 72, I always replied that it was no harder than learning to fly a Boeing 747 – only difference being that none of controls were labeled. After about a year, I attended Craig's clinic. During a race that he was calling, I kept Annie at a lope through the first few obstacles and Craig made the observation that "he is really smoking". He coined the handle "Smokin Joe" and it stuck. Eventually we improved enough to win Novice Regional and National Titles, and place in the top ten at the Worlds. Every ride is a learning experience and now at age 80, I still have a very long way to go.

I missed some races in 2016 due to quadruple bypass open heart surgery. I was unable to attend and compete in the Worlds even though I was honored by being inducted into the Hall of Fame. After months of recovery, I am able to ride again and participate in races. One thing I find very rewarding is the camaraderie among EXCA participants. I have been assisted and encouraged by fellow competitors at every step along the way and I find myself cheering them along as I watch them ride. And – I am still cheered along the way by my wife, Sunny, who tolerates the things I sometimes neglect in order to ride.

Channel 11 (NBC affiliate) in Atlanta decided to do a story – again about me and the race. That piece ran last night on the 5pm news and again this morning on their morning program. Here is a link to that story