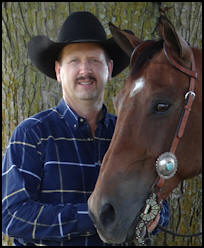 Runt Rageth - Harris, MO
Runt started showing horses at age 3. He has shown Quarter Horses, Appaloosas, Arabians, Morgans and Paints in events from Western Pleasure, Reining, Cutting and Hunter Jumpers. Through the years he has competed in Little Britches Rodeo, High School Rodeo, College and Amateur Rodeo from Tie Down roping, Team Roping, Steer Wrestling and Saddle Bronc Riding. Now days he enjoys competing in Cowboy Races, some Amateur Rodeos as well as being a Pick-up man at those Rodeos.
Some of Runtís achievements have been winning the EXCA Pro Reserve World Champion in 2010, 2012 and 2013, and in 2014 took home the EXCA Pro World Champion Buckle. Runt received the EXCA Overall World Champion Buckle in 2012 and 2014. Runt has had the honor of being invited to the Calgary Stampede Cowboy Up Challenge the last five years finishing in the top three placings. Runt won the Champion Buckle in 2011 and 2015 and the Reserve Buckle in 2012.
Runt has been competing in the Cowboy Races since 2008. He enjoys being a member of the EXCA. It provides a chance to compete in races with various obstacles, show what your horse can do and meet new people. Runt and his wife Machelle live in Harris Missouri, where they operate Rageth Versatility Horses.