Welcome to the Extreme Cowboy Association
We are excited about 2009 and the many fun filled and exciting Extreme Cowboy Racing events that are on the schedule. The formation of EXCA has been an thrilling and challenging adventure! Many people have worked tirelessly to create an association that you will be proud to tell your friends about. This is the first issue of your monthly newsletter, The Brave Horse.
You will receive it each month electronically around the middle of the month. The Brave Horse will be full of interesting stories, EXCA event results, point standings, human interest stories about EXCA members and Tips and Tales from our founder, Craig Cameron. We encourage you to communicate your suggestions for stories and ideas that will make The Brave Horse fun, better and more informative.
The Brave Horse the best newsletter in the equine world. Please forward your ideas and suggestions to Bill Hull at bhextremecowboy@gmail.com.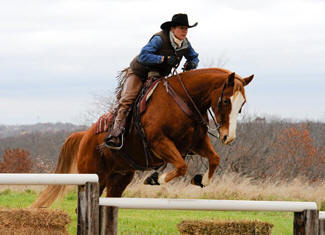 Breaking New Ground
Craig Cameron, considered one of the original clinicians, has a passion for horses, ranching, cowboying and anything western! He has devoted his life to horses and dedicates his work to people who educate their horses by first educating themselves.

As a young boy, Craig was influenced by old time cowmen that he met and lived with on his family cow ranches in Cat Spring and Giddings, Texas. "It was not only the cowboy way of life, but their mannerisms that moved me. I knew I was going to ranch and cowboy, and that was going to be the only trail for me".

Although Craig went to high school in Houston, Texas, he spent his extra time and summers on the ranch. As a teenager, he began to enter the open rodeos in the rough stock events, which seemed to suit him. It wasn't long before he won his PRCA card. He rode in some of the biggest and most prestigious rodeos all over the United States, Canada and Mexico.

Craig lived on and managed the family ranch which involved cattle, horses and haying operations while he continued to rodeo nationwide. Craig also took on horses to start and train for local ranches. Craig grew up in the era of rough handling of horses. "I always knew there had to be a better way to handle horses. I believed horses did not need to be abused or beaten to learn and I saw a lot of that as a young guy. I tried a slower, more natural approach. I did not have any teachers except the horse, so I felt my way along and it seemed to work; you know just old common sense".

A friend of Craig's, Hank Kershner told him he needed to meet a guy named Ray Hunt. Hank said, "He's great. You won't believe what he can do with a horse". Craig first met Ray Hunt around 1984. That was a turning point for Craig Cameron. Ray impressed upon Craig the importance of working with the horse and not against him. Craig took that information and ran with it.
For the last two decades, Craig has traveled internationally influencing people with his down home style that horses and people seem to love. Called the "public defender of the horse" is exactly that. Having been in countless magazines, Craig is also the only horseman with two award winning television shows on RFD-TV – "Ride Smart" and" The Extreme Cowboy Race".
Now, Craig Cameron is branching out and breaking new ground again by developing and starting the Extreme Cowboy Association (EXCA).

When people ask how he came up with the concept of Extreme Cowboy Racing, Craig calmly replies, " We call this a new wave of horsemanship - "natural horsemanship". However, every event is inside, somewhat mechanical, highly monitored and regulated. I thought, why not have an event that emulates what we as cowboys and ranchers do on the ranch; you know, water crossing, dragging logs, ground tying, trailer loading, going through rough terrain and shooting. So, I just made up an event and did it." Now Extreme Cowboy Racing is not only sweeping the country but taking the world of horsemanship by storm. What a great fast moving, exciting event for riders and spectators! With the development of EXCA, everyone can get involved at their level and join in on the fun. Points will be tracked and we will crown State, Regional and World Champions in all Divisions. Pass the word and let's get EXCA going strong in all 14 Regions across the United States.

What's Craig doing now? He is doing lots of clinics, lots of horses and working hard to develop EXCA. Craig says, "I am just an old cowboy trying to learn more about the horse" We know he's lots more than that. Thanks Craig, we'll see you on the trail.
Contact Craig and send your comments to, www.craigcameron.com.

2008 Extreme Cowboy Racing National Championship
The 2008 Extreme Cowboy Racing National Championship was held last November at the Saddle and Sirloin Club in Kansas City, Missouri. The event took place over 3 days with the 22 contestants each riding 3 rounds. The weather was cold with a little snow flurry thrown in to make it event more challenging. The National Champion was determined by the total combined score for the three rounds.
Congratulations go to 2008 Extreme Cowboy National Champion, Cam Schryver, from Ojai, California. The Reserve National Champion is Teryn Muench from Alpine, Texas. Teryn was the Extreme Cowboy National Champion in 2007.
Third place went to Jennie Wentworth from Doniphan, Missouri; fourth place went to Kansas cowboy Lee Hart from Gardner, Kansas and fifth place went to hard and fast riding Wylene Wilson from Queen Creek, Arizona. The remaining National Championship Qualifiers were:
Donny Anderson. Los Angeles, CA.

Taylor Binkley, Rolla, Missouri

Michelle Blasi, Sulphur, Kentucky

Leah Burke, Frankston, Texas

Ryan Hanna, Killdeer, North Dakota

Si Jarboe, Eagle, Colorado

Jason Keeker, Otwell, Indiana

Lance Monagon, The Dalles, Oregon

Sherry Oncale, Willits, California

Rick Rosendale, Rye, Colorado

Luke Searcy, Liberty, Missouri

Wendy Stephens, Vivian, Louisiana

Bob Walden, Ft. Peck, Montana

Nick Wright, Chandler, Texas

Skye, Wright, Chandler, Texas
All of these competitors did an outstanding job and should be very proud of their accomplishments! You can count on that they will be back competing in Extreme Cowboy Racing this year in an effort to qualify for the EXCA World Championship.

The 2009 EXCA World Championship will be held in Kansas City, Missouri, October 16-19, 2009.



The Dalles, Oregon
A First Class Community
It was truly a heartwarming when we heard how the community of The Dalles, Oregon rallied behind 2008 Extreme Cowboy Qualifier, Lance Monagon. Lance qualified for the 2008 Extreme Cowboy Race National Championship by finishing in 5th place in the Extreme Cowboy Race at the Northwest Horse Fair and Expo in Albany, Oregon.

In a successful effort to help Lance afford the trip to Kansas City, Missouri, the citizens of The Dalles got to work. Lance's employer, Temple Distributing, Inc. donate 100% of a days revenue. The employees donated 50% of their days pay back to their employer to help out. The local radio station interviewed Lance several times; the donations flowed in. The Fort Dalles Riders Association held a spaghetti feed and silent auction; again the community supported the effort.

Lance, his wife, Mariah and two of their three children, McKenzie, 9 and Jesse, 3 made the long trip to Kansas City. Lance rode hard and fast during the Extreme Cowboy National Championship. He always had a quick, genuine smile and a infectious sense of humor. The citizens of The Dalles should be proud of his performance. The Extreme Cowboy Association is proud to have the Monagon family as part of the EXCA family of members. All of our hats at the Extreme Cowboy Association are tipped to the community of The Dalles, Oregon.