Welcome to the Extreme Cowboy Association
We are excited about 2009 and the many fun filled and exciting Extreme Cowboy Racing events that are on the schedule. The formation of EXCA has been an thrilling and challenging adventure! Many people have worked tirelessly to create an association that you will be proud to tell your friends about. This is the latest issue of your monthly newsletter, The Brave Horse.
You will receive it each month electronically around the middle of the month. The Brave Horse will be full of interesting stories, EXCA event results, point standings, human interest stories about EXCA members and Tips and Tales from our founder, Craig Cameron. We encourage you to communicate your suggestions for stories and ideas that will make The Brave Horse fun, better and more informative.
The Brave Horse the best newsletter in the equine world. Please forward your ideas and suggestions to Bill Hull at bhextremecowboy@gmail.com.

As the old saying goes, "Time flies when you're having fun!" It's hard to believe that our first season concluded following the 2009 EXCA World Championship.
The fist year of the Extreme Cowboy Association is under our belts and in the record book. The hardest part of flying is to get off the ground and I will say that it has taken considerable effort by many to get the EXCA up and going but the Association is now on the way to becoming the fastest equine rowing equine sport in the industry.
As you know, the EXCA is divided into 15 different Regions nationwide. While some of the Regions are starting slowly, other Regions are heavily saturated with great events and enthusiastic competitors. The Association is undergoing lots of changes while in its infant stage which means growing pains and rule changes to fine tune this great new sport.
The EXCA World Championship which was held November 13 - 15 in Topeka, Kansas was a huge success. 103 competitors from 23 states traveled across the country for the prizes, money and World Titles. 100% of the entry fees were paid back to competitors as heated finals were played out with 2 go-rounds in each Division: Young Guns, Youth, Novice, Ride Smart, Non-P and Pro. The top riders fought it out for buckles, money, titles and prizes in a tough final 3rd round where World Champions and Reserve World Champions were as follows:
Young Guns:
World Champion: Samantha Lebbin from Michigan
Reserve World Champion: Alysha Hardy from Massachusetts
Youth:
World Champion: Jake Glidewell from Missouri
Reserve World Champion: Obbie Schlom from California
Novice:
World Champion: Susan Morris from Louisiana
Reserve World Champion: Lisa Rehberger from California
Ride Smart:
World Champion: James Best from Illinois
Reserve World Champion: Frances Jones from Texas
Non - Pro:
World Champion: Tracy Pinson from Florida
Reserve World Champion: Scott Nowlin from Kansas
Pro:
World Champion: Lee Hart from Kansas
Reserve World Champion: Kelly LeBlanc from Michigan
We wish to give a big thanks to all of our sponsors and to our premier sponsors Purina Mills and Colt Firearms. Sponsor participation helped to make our first World Championship a great success!
There was also a Directors meeting after the Championship with representatives from most of the 15 Regions. We discussed rule changes and future plans for the coming year to make 2010 bigger and better.
I wish to thank all competitors, members, clubs and volunteers for all your help throughout the last year and coming year.
Have a Merry Christmas, Happy New Year and keep those horses tuned up and I will see you on the course for another Extreme Cowboy Year!
Ride Tough
Ride Extreme
Craig Cameron

EXCA Membership Renewal Discount!
Send in your membership renewal before December 31st and save $10.00 on your 2010 EXCA membership. You can renew online or mail your membership to the EXCA office at P.O. Box 50, Bluff Dale, Texas, 76433. It makes a great Christmas gift for your family and friends!!

EXCA - An All Breeds Association
As the old saying goes, "the proof is in the pudding". During 2009, we said that all breeds were welcome and encouraged to compete in EXCA Extreme Cowboy Racing.
The 2009 EXCA World Championship showcased multiple breeds that included Tennessee Walking Horses, Arabians, Mustangs, Thoroughbreds, Mules, Ponies, Grade horses, paints and quarter horses. The judge Cam Schryver recognized the excellent performances by all of the breeds that were in the competition. The "proof is in the pudding" was that a Tennessee Walking Horse took home the Non - Pro World Championship and a spotted Saddle Horse took home the Youth World Championship. The Youth Reserve World Championship went to a Mule.
With the 2010 EXCA competition right around the corner, we again encourage and invite all breed of horses, ponies and Mules to come to the party!

EXCA Youth and Young Guns - Classy Young People!
What a pleasure it was to have so many classy young members of EXCA at the 2009 World Championship! Our young members "cowboyed and cowgirled up" in a fantastic display of horsemanship and sportsmanship as each of them gave it their very best. We are so proud of you and honored to have you in the Extreme Cowboy Association. Our appreciation, respect and congratulations are extended to each of you!
Keep riding hard, ride smart and we look forward to seeing you again in 2010.
Craig Cameron

EXCA In the News!
Extreme Cowboy competition has inaugural World Championships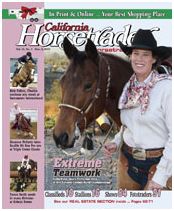 Robin Bond shines as California's top finisher
From Horsetrader staff reports - December 3rd, 2009 Issue - Cover Story
TOPEKA, Kan. — Before last February's Equine Affaire in Pomona, trainer Robin Bond of Rancho Dos Palmas ranch in Vista heeded encouragement of her clients: enter the Extreme Cowboy event.
She did, and nine months after being bitten by the Extreme Cowboy bug, she found herself Nov. 15 just a point shy of being World Champion in the Professional Division of the first Extreme Cowboy Race World Championships.
"I thought I was going to win it, but I didn't count my chickens," said Bond, whose 389.25 final total on Jose's Perfection trailed Lee Hart of Kansas (390.25) and Kelly LeBlanc of Illinois (389.5). "I was going up against the group of guys who I'd never seen ride before."

She also was the only finalist with two horses in the Top 10. In addition to third place on "Chapo", a 12-year-old Quarter Horse gelding owned by Ricardo Cruz, Bond also finished in 10th on Zan's Bar Two, a 9-year-old Quarter gelding owned by Ann Laddon, owner of Rancho Dos Palmas.
In all, 26 professionals competed in their division–one of five divisions of riders that also featured Young Guns (ages 7 years to 11), Youth (12-17), Non-Professional, and Ride Smart (over 55).
Two of Bond's clients earned national recognition with Top 10 finishes in their respective divisions: Lisa Rehberger of Point Loma in the Non-Professional and her 16-year-old daughter, Carly Bowerman in the Youth. Mom and daughter both rode Trinket.
"You have to have a horse that lopes well, that responds to cues properly, that does trail obstacles," said Bond, who broke into riding as a girl with hunters and jumpers , then moved to eventing before joining the Navy. Upon ending her service in 1992, she found work with horses under Sandy Arledge at Far West Farms in Del Mar, where she stayed for 10 years.
Robin Bond and Jose's Perfection, a 12-year-old Quarter Horse gelding owned by Ricky Cruz, take third place in the first Extreme Cowboy Association World Championships.
"I owe a lot to Sandy for this particular event because I watched her over trail obstacles for 10 years," said Bond, the western trainer at Rancho Dos Palmas about 3-and-a-half years. "She helped me understand how to get a horse comfortable over trail obstacles. You want to take your horse in there, and you want to do it slow and you want to do it correct, and you want them to be comfortable. Then, as they get more comfortable, then they put the speed on almost by themselves."
At Rancho Dos Palmas, Bond does reining, some reined cow horse, and lately ranch roping. Her rapid rise in the fledging sport of the Extreme Cowboy Race combined with the surging popularity of the sport has provided focus for her future.
"At the Equine Affaire where I did my first Extreme Cowboy race, I handed out a lot of business cards–and every card that I handed out, somebody called on," she said. "That was really rare, and that's what determined my path for the next several years. There there's a call for this, and I'm good at teaching it. That's my main focus, getting people started in the Novice and the Non-pro level of the Extreme Cowboy race."
The Extreme Cowboy Race events are designed to challenge both the rider and horse to overcome a series of obstacles. The number of obstacles crossed, overall horsemanship and speed with control are the basis for scoring participants.
It is mandatory for all the participants to be members of the Extreme Cowboy Association. The registration process is still open for the riders of all ages and for all the breeds of horses & mules. Western-style clothing and tack is a must for all the participants.
Another Californian, Bill Cameron, rode I'll Cowboy Up to take fourth place in the Extreme Cowboy Association World Championships with a 377 total score.
For complete show results, visit the Web site: http://bit.ly/excaworld2009