Welcome to the Extreme Cowboy Association
We are excited about 2009 and the many fun filled and exciting Extreme Cowboy Racing events that are on the schedule. The formation of EXCA has been an thrilling and challenging adventure! Many people have worked tirelessly to create an association that you will be proud to tell your friends about. This is the latest issue of your monthly newsletter, The Brave Horse.
You will receive it each month electronically around the middle of the month. The Brave Horse will be full of interesting stories, EXCA event results, point standings, human interest stories about EXCA members and Tips and Tales from our founder, Craig Cameron. We encourage you to communicate your suggestions for stories and ideas that will make The Brave Horse fun, better and more informative.

Tips & Tails by Craig Cameron
The Extreme Cowboy Association is up, in gear, on fire, and rolling like a runaway train on a downhill grade. I have just returned from the Equine Affaire in Pomona, California where I am excited to report that our roster for contestants was full and each go round including the finals were raced with a packed and standing room only crowd. The contestants ranged from young to old, each riding strong and having fun on a tough course. And talk about having fun, our incredible fans were beyond enthusiastic as they literally roared their enthusiasm to a deafening pitch for each rider.
Our current national champion, Cam Schryver, from Ojai, CA, returned with a vengeance on his trusty stallion, Stix, to overwhelm the competition and the crowd to another solid victory. What a performance! However, the highlight of the show might have been when 76 year old Dan Lopez, who stormed into the finals with a red hot run was rewarded with a heart felt, deafening and standing ovation for his finals performance. Other outstanding performances at the Equine Affaire in Pomona, CA were turned in by Donny Anderson, Jon Reuter, Bill Cameron, Corinne Lindquist, Kathy Aparicio, Sharon Tavaglione, Rick Hoffman, and Robin Bond.
The Extreme Cowboy Association is sweeping the country because it is the most exciting and entertaining equine event on the scene today and anybody can do it. To me, what makes the Extreme Cowboy Association Race different than any other event or association is riders can compete on any type of horse. All are welcome. Any breed, any gender, including stallions, mules, ponies, walking horses, quarter horses, and equines of any type or shape are encouraged to step up to the line. If you enjoy horses, riding, and having fun, then we encourage you to get onboard. I have never talked with anyone who has competed in an Extreme Race who has not said "that is the most fun I have had on my horse."
This week I am on to Wichita, Kansas for the big Kansas Equifest where another Extreme Cowboy Association event is scheduled. I will give you an update and report in the next issue of the Brave Horse.
Remember, preparation is the key to develop a great horse and rider team for the Extreme Cowboy Race. Preparation is not just for the horse but for the rider as well. Don't forget….a big part of your score is about horsemanship not just the horse's performance. Keep working and riding and I will see you down the road and on the course.
Ride Like a Champion
Craig Cameron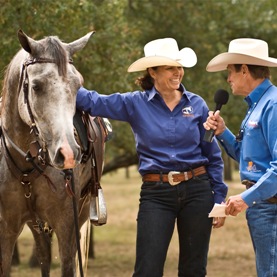 Joyce Lewis with Craig
Meet Extreme Cowboy Racing's Joyce Lewis
By: Lori Roets
Ask Joyce Lewis how she got started in Extreme Cowboy Racing and you just might be surprised at the answer. Channel surfing one day with her friend Melissa Simmons of Cedar Cross Farm, she caught a glimpse of Craig Cameron's "The Extreme Cowboy Race", the show which introduced the sport to the world on RFD-TV . What Joyce Lewis saw that day intrigued her and she set out to see if she could master the skills necessary to complete the challenging 13 obstacle course. A dressage rider in her youth, Joyce "got out of horses" at about age 21 to pursue other interests – in particular, undertaking an Air Force career and raising a family. In 2004, at age 42, Joyce and her family moved to Mount Pleasant, North Carolina from Las Vegas and the horse bug began to bite again. Joyce's sister Janell Mount, who lived nearby, had a horse and wanted Joyce to ride with her.
Enter Josh, a big, beautiful bay gelding. But, of course, looks can be deceiving. Highly disrespectful, pushy, and headstrong, Josh was anything but the horse Joyce was looking for to "just have fun on".
With a goal-oriented personality and never one to shrink from a challenge, Joyce was determined she could make inroads with this unruly equine. Taking ownership of Josh, Joyce began applying the skills she saw demonstrated on RFD-TV by various natural horsemanship practitioners. Little by little, she saw changes in Josh's demeanor, and gradually, he went from being a challenge to a joy to trail ride. Together, Joyce and Josh forged a partnership – one that would be put to the test thanks to Joyce's channel surfing.
In 2007, Joyce discovered HorseCity.com was sponsoring an open casting call for "The Extreme Cowboy Race". Challenged by her friend Melissa – no, practically "dared" – Joyce submitted the requisite demo tape to be considered as a competitor.
Harking back to her English roots, Joyce opened her demo tape by racing in decked out in full English tack and apparel. Riding up to the camera, she conceded perhaps English was not EXCAly what Craig had in mind when he said "Extreme Cowboy Race". Racing off, Joyce re-entered the video moments later, using a "borrowed Western saddle" and western attire. She proceeded to show Craig and his team just what an English rider in a Western clothing can really do. It won her a slot on Season Six of "The Extreme Cowboy Race".
When it came time to film in Augusta, Georgia in October, 2007, Joyce and Josh were put to the test. Among the obstacles she faced were enormous moguls, water crossing, using a rope and operating a gate while mounted. When the dust settled, Joyce scored 164.5 with a time of 5:55, making a very respectable finish in the Top 8 and earning her the opportunity to make a second run for which she scored 171.5 with a time of 6:42.
Not long after the airing of Season Six, Joyce received a call from Craig Cameron. Season Eight would be an All-Girl Challenge to be filmed at Craig's ranch in Bluffdale, Texas. Would Joyce be interested in competing again? Without hesitation, she jumped at the chance. This time, she chose a different equine partner: a dapple gray Arabian gelding, named Khamaal owned by Loretta Melton of Arabah Brook Arabians.
Having accepted the challenge, the reality suddenly set in. Texas was a much farther road trip than Augusta. Through the support of sponsors and friends, Joyce raised the funds needed to make the trip. Horse people - always willing to help - gave her places to stay along her route so she did not have to incur hotel expenses and had good equine accommodations.
Leaving Craig Cameron's ranch after two days of filming, Joyce stopped at a gas station to fill up and get coffee. A couple recognized her from the race and struck up a conversation. She soon realized it was Bill Hull, President of the Extreme Cowboy Association, and his wife Barbara, she was speaking with. Through their conversation she found her next challenge -- as a National Advisory Board member for the Extreme Cowboy Association's Mid-Atlantic region, encompassing North Carolina, Virginia and West Virginia. In her new role, she is responsible for promoting Extreme Cowboy Racing through out the region, in particular helping interested groups and individuals stage their own races.
When she's not promoting EXCA, Joyce now trains horses full-time, working out of Gambler's Ridge in Gold Hill, North Carolina. As word of her passion for natural horsemanship has spread, her waiting list for training has grown, providing her with a job some only get to dream about.

-- Lori Roets writes an online equine column for Examiner.com, as the Charlotte Equine Examiner. The column is easily accessed through her website at www.loriroets.com.


CC Rider and Ole Blue Eyes
The following is the message that EXCA member Chris Chapman sent to her supporters and sponsors following her trip to Equifest of Kansas in Wichita. Chris is the owner and trainer of SRBA Farm in Boyceville, Wisconsin. We thought you would enjoy reading the vivid description of Chris' experience in her first EXCA competition.

Hello everyone, We are HOME!!
I had a wonderful time and even Frank enjoyed the trip, except for the long trailer ride. We did not place in the finals although we did stay and watch them. We will be having a get together in Woodville at the Cubby Hole Restaurant and Lounge owned by one of my sponsors Ben Jung, we'll show my audition video that got me into the race and also my run at the Expo in Kansas so that everyone can see what it was like.
We met with Craig Cameron before the race to walk through the pattern on foot, the horses were not allowed in the arena before hand, no practicing the obstacles. The pattern was: walk in to the start line at the north end of the arena, then to pick up a right lead in a "Free Ride" circling the arena at a controlled run followed by three apprx 2 foot jumps and then to a bridge surrounded by boxes of flowers, followed by going into a pen with a mini donkey and pulling off a playing card taped to a pipe panel and proceeding to a side pass with a pole under the horses belly, opening a mailbox depositing the card and side passing back out again, go to a rectangular swimming pool, sans water, filled with rubber tub toys and two life like looking snakes about 3 feet long. The pool was surrounded by straw bales with one way in and one way out. Next was the stock tank pull a 100 gallon tank was placed on it's side and you were to dally up and pull it over and drag it between two cones. Canter circles around cones both leads correctly , wither simple lead changes or flying changes were allowed with the points reflecting the execution of the changes, followed by running towards a pole back up course, two poles making an alley with a 90 degree turn that you must back through. Then another jump approx 3 feet tall which was made out of some type of plastic and looked like two culverts with a small narrow bridge over it connecting the two then on to another free ride on the left lead controlled and with speed the full circle of the arena and then load your horse into a stock type trailer shut the door and run on foot to the time line in the middle of the arena.
The runs were anywhere from 3 ½ to 7 minutes long. I came in at just under 5 minutes. Refusals of the obstacles were granted no points, trying, depending on the outcome, were granted something at the judges discretion and onwards up to 10 points for perfection. There were two judges and they walked the arena to every obstacle while you were competing.
Each obstacle was rated, horsemanship was the most important factor with time being the least important factor. The obstacles were heavily geared to reining precision and were a lot of fun!
The final course was changed and the 10 finalist followed this pattern: Walk in, left canter lead into a Free Ride, once around the arena fully 3 roll backs, move to a cone with a golf ball on it, smallest style of cones, then pick ball up and move to next cone and replace it, come around to the bridge while shaking out your rope and roping a steer head placed two bales high, throw the rope when complete and go jump three 2 foot jumps then head around to the rail on the long end of the lope off to the dragging obstacle which was a pallet with a cooler with wheels on it sitting on the pallet and on top of the cooler was a orange cone, the cowboy must dally the rope and perform a controlled drag without the wheeled cooler rolling off the pallet, move on to a box made out of poles on the ground and four spins to each side, then walk to an orange cone and dismount and throw 3 bales will your horse is ground tied, remount run half of the arena and stop, stand on your horse and hit a bucket suspended from the ceiling with your hand, proceed ¼ way around the arena and dismount strip off your tack remount bareback and free ride 1 ½ times around the arena, dismount lead your horse while you both jump over the 3 jumps and cross the finish line.
As far as the facilities went this Expo was much smaller that what we are used to in the Twin Cities or even Madison. They were very security conscious which allowed me to relax about leaving Frank over night, they locked the facility down and had security guards posted. During the day the heat was on in the barn for human comfort and the horses tended to get a little warm. We had access to an indoor arena, none outdoors, but were allowed to ride where ever we wanted I spent a lot of time riding around the parking lot through traffic etc. The weather was great 40's and 50's during the day and high 20's low 30's in the evening.
The people in general in Kansas were very friendly and helpful and open to talking even though they didn't know us, they were also very courteous. As for Craig Cameron and his staff they were happy to have us come down for the competition. When I had completed my run Craig spoke with me for a couple minutes and thanked me coming all the way from WI, he invited me to participate again and was very cordial, he did like the fact that I was having such a good time and it showed. The audience was very into my ride with clapping, hollering and cheering. It was a wonderful experience and I do plan on competing again, the next time I may decide to compete on one of the out door courses.
We arrived home on Sunday night, Monday morning about 2:30am. It took about 15 hours to make the trip one way. It's great to be home and I can't wait to go again!
Thank you everyone for all your help and interest!!
Chris Chapman