Welcome to the Extreme Cowboy Association
We are excited about 2010 and the many fun filled and exciting Extreme Cowboy Racing events that are on the schedule. The formation of EXCA has been an thrilling and challenging adventure! Many people have worked tirelessly to create an association that you will be proud to tell your friends about. This is the latest issue of your monthly newsletter, The Brave Horse.
You will receive it each month electronically around the middle of the month. The Brave Horse will be full of interesting stories, EXCA event results, point standings, human interest stories about EXCA members and Tips and Tales from our founder, Craig Cameron. We encourage you to communicate your suggestions for stories and ideas that will make The Brave Horse fun, better and more informative.
The Brave Horse the best newsletter in the equine world. Please forward your ideas and suggestions to Bill Hull at bhextremecowboy@gmail.com.

2010 EXCA WORLD CHAMPIONSHIPS
By Craig Cameron
The 2010 EXCA World Championship is just a month away! Many of you will be traveling to Topeka, KS. to compete for the title of EXCA World Champion and others will be in Topeka to cheer for you as you and your horse give it your very best effort over 3 days of exciting, high energy competition! Contestants will be converging on Topeka from all across the United States, and this year, for the first time we will welcome riders from the State of Hawaii and our neighboring country to the north, Canada.
2010 has been a year of growth for EXCA. We have a total of 46 EXCA Clubs this year compared to 21 EXCA Clubs in 2009. There is a 42% increase in the number of events in comparison to last year and with several events yet to be run, we estimate an increase of 48% in total entries for 2010. As you know, 2010 was our first year to have the Judge's Certification program. We now have 60 certified EXCA Judges and continue to receive requests for taking the Judge's Test. The second Judging Certification Clinic for 2010 will be held December 5-7 at the Double Horn Ranch in Bluff Dale, TX.
This positive growth is because of you – the EXCA membership. We tip our hat to each of you as we thank you for your ongoing support and participation.
As we look ahead to 2011, we will be conducting our annual review of the EXCA Rulebook and will be adding and/or making modifications to the EXCA Rulebook in an effort to continually improve our sport.
We look forward to seeing you in Topeka!
See you on the trail,
Craig Cameron

The Come Back
by Susan Morris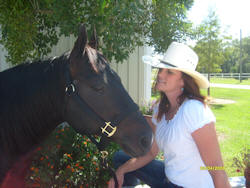 This is my story of how tragedy and triumph along with God helped me to survive a time of my life that changed me forever. My name is Susan Morris. I am 40 years old and have lived in the small country town of Pride in Louisiana all of my life. Horses; and their way of life have always been a big part of me since I was a young girl. God has blessed me with a great family. He gave me a loving, supportive, hard-working husband and two children; a daughter named Ashley and a son named Rhett. Both of them grew up to be very responsible, well mannered country kids.
The day of November 3, 2007 changed my life forever. My fifteen year old son Rhett was killed in an accident at our home in Pride. This was a day that will never been forgotten and a day I thought I would never survive. If not for God taking over my life and blessing me with the signs that showed me that my little boy was okay and in Heaven with him, I don't think I would have survived. God's grace kept me on my feet and helped me overcome my many trials and tribulations. He also showed me that he would give me the strength to survive and the time I needed to mourn. God will never put anyone through more than what they can handle.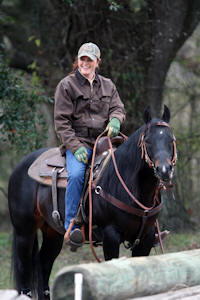 Two months prior to my sons passing, Rhett said to me "Mom, why don't you show? I've seen you ride a lot, but I've never seen you show." Of course I said "I don't have time to show, and I'm more worried about taking care of you and your sister." Rhett said, "Well, we go to the rodeos all the time, so ride barrels or something." I laughed and told Rhett I was too old to compete. He persistently pushed me into trying to run barrels. I started with a mare and within two months was doing quite well, so well that that I entered barrels competition at the Angola Prison Rodeo in Angola, Louisiana. Six days prior to his death, he watched me place fourth in the barrel race. People tell me that he stood in the stands hollering, "That's my Mama". After the tragic turn of events I felt I would never show again. Fifteen months passed by and God said to me "It's time to get going". I remember sensing God with a strong of "push" to go to this black stallion named Cajun."Go to this horse" I was told. "Go to this horse!" "Go to this horse!"
Having faith because God had already brought me this far, I set out to do his will. Now understand, this horse had a major impairment, a stifle joint injury which left him crippled for nearly two years. I thought to myself, "What does God want me to do with a crippled horse?"Being who I am and knowing that all things are possible through God, I began taking Cajun out for walks and exercising him lightly. Slowly but surely I got him into normal activity. He was showing no signs of lameness. I knew this was God's intervention. I continued working slowly with Cajun for several more months.
Nine more months had passed by and I was reading a classified ad in Bits & Pieces Magazine. It told of a competition called Extreme Cowboy Association also known as EXCA, founded by Craig Cameron, a Hall of Fame Cowboy. It looked and sounded very interesting to me. It is a timed event that entails challenging obstacles with overall horsemanship. The classified ad said a competition was to be held in Amite, Louisiana, which is about an hour from where I live. These shows are also held all over the U.S. at various times but something told me "This is it, I have to try this".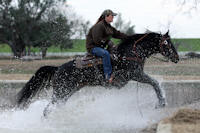 Cajun, was a well trained cutting horse, with good manners before his injury but he and I were going to do something completely different for both of us, this competition was going to prove to be a challenge for both horse and rider. We would learn together. We entered the competition and started our new journey together. Friends and family, told me it would be a great opportunity to get out, meet new people, socialize, and maybe help someone else find strength to carry on.
Our first show was one I will never forget. Cajun and I let it all hang out. We were crossing our water obstacle with speed and we flipped into the water head first. Both of us were basically submerged, and I ended up under him in the water. We recovered, he stood, and I stood up. His nose was bloody and he looked at me as if to say, you gonna swim or ride. I got back on him a little disoriented, but finished the course and ended up in third place. It was a great show, but after the adrenaline wore off I realized I had injured my foot and could hardly move my foot. After dropping off Cajun at the barn, I had to be driven to the Emergency Room. It turned out nothing was broken, just a bad sprain and a walking cast. As for Cajun, a little chiropractic work was all that was needed for his jammed neck.
This experience did not stop us, we were hooked! We continued to make the upcoming shows and loved every minute of it! Cajun and I were filled with great expectations. By the end of the 2009 season, we had finished first in the state of Louisiana, first in the Lone Star Region, and had qualified to show our skills at the EXCA World Championship Finals in Topeka, Kansas. It was all so "Wow" to me and a lot to take in. I felt like I wasn't qualified for a competition like the one in Kansas, I didn't think I had a chance, but that was the human side of me talking. After all I had just started, but my mother and many others encouraged me, saying, "This is your chance". After more thought and prayers, I remembered that all things were possible through God, and I put my trust in thee. Just being a participant in the World Show would be a great experience and after all, I would have an angel with me.
My horse and I were both novices when it came to many of the obstacles that would be included on the course; I knew it would be a challenge. Cajun had never jumped so high, nor had I ever shot a gun while on his back. I felt confident that the bond of love and trust that existed between us as horse and rider would make a difference; we could do it together and make the best of it.
Our World Competition entailed of three days of competitive riding which was both scary and very exciting. We made it into the finals. When it was all over I heard my name called out as both the Novice World Champion and I had placed fifth in Non-Pro. This was a dream come true for me. When I had time to think about what all had transpired during those three days of intense competition it began to "sink in" …this was an opportunity provided by God for two broken individuals to heal one another.
This November I will again compete in the EXCA World Championship Finals in Topeka, Kansas as a Non-Pro.
To close this story, but by no means end it, I would like to thank my family and close friends whose continued support, keep Cajun and I going every day. I also want to offer these final words of advice, "when you're down, look up, God's there."
Susan Morris

EXCA Membership Renewals
Effective for the 2011 EXCA competition season, which begins following the EXCA Annual meeting on November 14th, your EXCA Membership will run for 12 months from the time you renew your membership or join for the first time. It will no longer be for the calendar year.
Renewals that are received by December 31, 2010 will receive the following discounts:
Individual Membership: $55.00 (discounted from $65.00)

Family Membership: $95.00 (discounted from $105.00)

Youth or Young Gun Membership $40.00 (discounted from $45.00)

Associate (Non-competition Membership will remain $25.00.

Life Memberships will remain $650.00 which includes a beautiful EXCA Life Member belt buckle.
Don't delay, submit your renewal by December 31st and receive your EXCA Membership discount!