Welcome to the Extreme Cowboy Association
We are excited about 2010 and the many fun filled and exciting Extreme Cowboy Racing events that are on the schedule. The formation of EXCA has been an thrilling and challenging adventure! Many people have worked tirelessly to create an association that you will be proud to tell your friends about. This is the latest issue of your monthly newsletter, The Brave Horse.
You will receive it each month electronically around the middle of the month. The Brave Horse will be full of interesting stories, EXCA event results, point standings, human interest stories about EXCA members and Tips and Tales from our founder, Craig Cameron. We encourage you to communicate your suggestions for stories and ideas that will make The Brave Horse fun, better and more informative.
The Brave Horse the best newsletter in the equine world. Please forward your ideas and suggestions to Bill Hull at bhextremecowboy@gmail.com.

HORSEMANSHIP FUNDAMENTALS
Pay Attention or Pay Consequences
By Craig Cameron
Horses will always tell you the truth - they are not deceptive and they won't lie to you. On the other hand, how many times have you seen someone quietly approach their horse with a treat, with the true purpose of the treat being to catch the horse and put him to work? It doesn't take too many times before the horse figures out the deception and won't come to the treat. The horse owner then gets frustrated because he can't catch his horse and blames the horse rather than taking responsibility for using deception with his horse.
Horses always give us clear, precise messages. It is up to us to understand and respect the messages being given to us. When horses are relaxed and happy, they will keep their heads low, their ears wiggle and they will lick their lips. When they are nervous, unhappy or scared, they will keep their heads high, ears stiff and usually pinned. They are telling us how the really feel – no deceit – just the truth. The good horseman always pays attention to his horses' body language to recognize how his horse is feeling at any given moment. When we fail to pay attention, that is when problems start and we get hurt. It is our decision to make; pay attention or pay the consequences.
Ride Hard and always Ride Smart.
Craig Cameron

BUILDING EXCA ON THE EAST COAST
By Joyce Lewis
Mid Atlantic National Advisory Board Member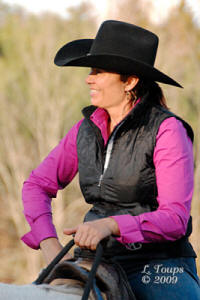 It was early that morning in October, 2008 as I sat in the Valero Gas Station in Bluff Dale, Texas nursing my bruised ego, as I sipped my coffee.
It was the afternoon before that I had raced in Craig Cameron's Extreme Cowboy Race, All Girl Challenge at the Double Horn Ranch. It was a respectable finish in the top eight, making it to the second round, against some of the toughest cowgirls in the country.
As I sat there at the gas station café, I noticed a couple of folks that I recognized from the proceeding day's events. "Excuse me" Bill Hull, President of the Extreme Cowboy Association, leaned over from across the aisle. "Didn't you ride that grey Arabian yesterday at Craig's ranch?"
Oh gosh, I thought to myself, this guy is going to point out to me how terribly wrong my ride went in the second round. "You looked really good out there with that Arabian in a crowd of Quarter Horses," he shared. "You know, Craig and I are working on forming an association to showcase all breeds in Extreme Cowboy Racing."
"Really, tell me more, I love this sport!" I explained to Bill. I had been hooked on Extreme Cowboy Racing since watching Craig's show on RFD-TV. In spring of 2007, I had submitted a DVD demonstrating my Quarter Horse gelding's extreme capabilities, in the hopes of being chosen to ride in season six, filmed in Augusta, Georgia. What a rush when I received the acceptance letter from HorseCity.com that I was scheduled to race.
A former Dressage rider, that race at the Hippodrome in Augusta, Georgia was the beginning of the end of my breeches and tall boots, I was hooked.
Bill and I stayed in touch that fall and when the Official Extreme Cowboy Association was launched in 2009, I was quick to become a member. Okay, where are all the races? I'm ready to compete. I quickly became aware that cowboy racing was not popular on the East Coast.
After a few confidence building conversations with Bill, I agreed to join the EXCA National Advisory Board, representing the Mid Atlantic Region. My first task was to get a sanctioned EXCA event scheduled for our region, North Carolina, Virginia, W. Virginia and Maryland. With the assistance of Jeff and Amy Wylie at Why Not An American Ark, in Monroe, NC the Mid Atlantic Racer's Club launched its first sanctioned event in March, 2009.
The new sport of Extreme Cowboy Racing on the East Coast drew lots of curious spectators and 24 competitors. We were all excited to see a large crowd turn out to watch the event. The payout for that race exceeded $1,000, so I was certain that our next race would be double in size.
As I prepared for the second sanctioned EXCA event, May 2009, at Gambler's Ridge, Gold Hill, NC, I was slowly becoming disillusioned with the number of participants. What happened? Spectator numbers were big, but participant numbers were half the first event. As races came and went in the 2009 Mid Atlantic Region, we never grew past 12 to 14 racers per event.
Not one to shrink from a challenge, I started teaching "Cowboy Clinics" the day before the races, in an effort to dispel the scary word "extreme" and encourage the word "race" in the title of our association. All disciplines are welcome at these clinics and the judges for the race are never present.
There has been some honest camaraderie formed from these clinics, I've actually seen western riders sharing their tack with the English riders, so that they could compete in the race the following day!
Trail riders are also exploring Cowboy Clinics as a new way to develop a brave horse and increasing their confidence in this exhilarating sport.
Our last race in the Mid Atlantic Region boasted 20 participants in the Cowboy Clinic and 30 racers! We have now surpassed our original participant numbers from 2009.
Of course, the Mid Atlantic Region's success has not been built on Cowboy Clinics alone. Loyal EXCA members, racers and spectators attending Mid Atlantic events have been key to getting the word out about Extreme Cowboy Racing. At every event I attend, host or teach, I have flyers to pass out to folks to post in feed and tack stores for the upcoming race. I will shamelessly ask anyone, if they will please post a flyer for me in their area. Heck, if I just get 50% of those people to actually tack that flyer up on a bulletin board, I'm ahead of the marketing curve!
Another great way I have found to advertise for events is through equestrian themed internet calendars, bulletin boards and yahoo groups.
The east coast has come a long way since our first race in 2009. On September 11th, The Mid Atlantic Region will hold the second Regional Championship at Green River Farm, South Carolina and we're expecting record numbers!
Joyce Lewis

2010 EXCA WORLD CHAMPIONSHIPS
The 2010 EXCA World Championship is scheduled for November 12-14 at the Kansas Expocentre in Topeka, Kansas. With the growth of EXCA across the country and Canada, the 2010 World Championship promises to be bigger and better in all aspects. Invitations will be extended to all of the EXCA Regions immediately following the respective Regional Championships. The top 60% from each Division in each Region will be invited to compete for cash, prizes and the title of EXCA World Champion!
Cash payback and prizes will be awarded to the top 5 in each Division, with 100% of the entry fees be paid back to the winners. In addition to the cash and prizes, the World Champion and Reserve World Champion from each Division will receive a beautiful EXCA World Championship buckle.
Entry forms will be available on the EXCA Website within the next 2 weeks. Be sure to keep track of your points on the Regional point page on the EXCA website.
There will be two host hotels this year. The Capital Plaza Hotel located next to the Expocentre will be available at a cost of $69 per night plus tax. The phone number is 785-431-7200. The Ramada Hotel and Convention Center, located at 420 SE 6th St. will be available at $69 per night plus tax and will offer a free hot breakfast each morning plus two free drinks each night of your stay. The phone number is 785-234-5400. The Ramada is approximately 10 minutes from the Expocentre. When you make your reservations at either hotel, be sure to ask for the Extreme Cowboy Association room rate.
Tickets are available on the EXCA website. Each contestant will receive one free companion pass that will be valid for the entire weekend.
We look forward to seeing you in Topeka!!

EXCA HALL OF FAME
The EXCA World Championship is only 3 months away. As most of you know, EXCA honors Hall of Fame inductees during the World Championship. The time has come to begin thinking about someone that you feel is deserving of this honor. The criteria for Hall of Fame consideration is considered in 4 different ways:
* Best Ambassador / Promoter of the Sport
* World Champion
* Number of Races Attended
* Length of EXCA Membership
We ask that you give some thought to this process and nominate any individual(s) that you feel are deserving of this honor. Please submit their name and the reason(s) you are nominating them to be considered for induction into the EXCA Hall of Fame. Please submit your nominations to bhextremecowboy@gmail.com.