Welcome to the Extreme Cowboy Association
We are excited about 2010 and the many fun filled and exciting Extreme Cowboy Racing events that are on the schedule. The formation of EXCA has been an thrilling and challenging adventure! Many people have worked tirelessly to create an association that you will be proud to tell your friends about. This is the latest issue of your monthly newsletter, The Brave Horse.
You will receive it each month electronically around the middle of the month. The Brave Horse will be full of interesting stories, EXCA event results, point standings, human interest stories about EXCA members and Tips and Tales from our founder, Craig Cameron. We encourage you to communicate your suggestions for stories and ideas that will make The Brave Horse fun, better and more informative.
The Brave Horse the best newsletter in the equine world. Please forward your ideas and suggestions to Bill Hull at bhextremecowboy@gmail.com.

The One Rein Method to Straightness and Softness
By Craig Cameron
In horsemanship you hear a lot about the one rein technique, the one rein bend, the one rein flex and the one rein stop.
The reason to use the one rein method is that you do not give the horse as much to brace or pull against. The natural instinct of the horse is to go against pressure. The bit of course creates and works off pressure as do our hands, legs, lead rope, halter and spurs. As a rider, our job is to teach and allow our horse to yield to pressure; however, it is our responsibility to release the pressure as our horse gives to the pressure. When we ask our horse to perform any maneuver, he is responding to the release of the pressure we apply with our ques.
In the earliest phases of horsemanship many riders use one rein techniques. The trouble starts when riders begin pulling on two reins for maneuvers. A rider should guide, que or hold instead of so much pulling. When a rider pulls on two reins, it is natural for the horse to brace and pull against the pressure. When a rider pulls hard with two reins, the horse is going to have the natural reaction of trying to protect himself from the pressure. This is often exhibited by raising his head and /or gaping his mouth as he searches for relief from the pressure.
When a rider learns the one rein technique, many of the bad habits that are created by pulling on two reins can be avoided. For example, instead of pulling on two reins for a stop, the rider can simply bend the horse to a stop by using one rein. This works because the more you bend the horse the more you control the hindquarters which is the horse's engine. Practice stopping your horse by using the left rein to bend your horse. In this case, the left rein is the direct rein and the right rein is the indirect rein. Slowly begin to increase your use of the right rein (for support) with the left rein to find the stop and keep the horse straight.
The one rein technique is an extremely effective method for any rider to use in developing and maintaining appropriate and effective touch, feel and timing. I recommend that you give it a try and I think you will agree that using the one rein method is truly a common sense approach.
Ride Hard and always Ride Smart.
Craig Cameron

YOUNG GUNS - EXCA SOUTH PACIFIC REGION
Extreme Team Magison
by Lori Schiavone
Hello, my name is Lori Schiavone EXCA #510, NAB South Pacific Region, and President California Cowboy Racers. This year we started a local club called the California Cowboy Racers. We have had some great races and success as an EXCA sanctioned club. Part of the success and something I want to share with you is what I think is one of the greatest benefits of the EXCA.
"Friendships and Camaraderie"

"Formed - All with a similar interest The Horse"

Below is the story about 2 of our California Cowboy Racers Club and EXCA members, Addison Coutts and Maggie Cincotta both are Young Guns (age 7-11) riders.

EXTREME

TEAM "MAGISON"

, as we out here in California have nicknamed them. The girls have a friendly competition going on this year and a new friendship.
Addison Coutts and Cowboy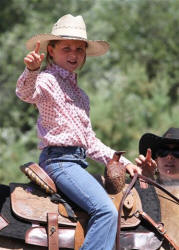 Addison has been riding since day one, currently she is 10 years old and rides a 20 year old Dun Quarter Pony she calls Cowboy. This team, Cowboy and Addison were the 2008 Ca Jr. Rodeo Pee Wee Poles Champ. The year of hard work and wins got the team a Trophy Saddle. Addison is also an Honor Roll student at Cottonwood Elementary and she also enjoys gymnastics, barrel racing and swimming.
Last year as the EXCA Young Gun South Pacific Regional Champion, Addison and Cowboy traveled to Kansas to compete at the EXCA World Finals. They did an awesome job although Cowboy thought he was there to barrel race! Shannon is Addison's coach along with all the rest of us Mom's out here in California.
Maggie Cincotta and Rayo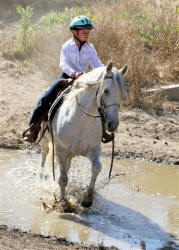 Maggie is 10 years old, 11 in October and she has been riding for 4 years. Maggie rides and is interning with Robin Bond, out of Vista California, an EXCA Pro Rider and Trainer. She helps Robin out 4 days a week riding and ground working horses. This is where she met Rayo. Rayo is a Handsome Grade horse Robin owns and Maggie spends her summers with. Maggie is absolutely crazy about Rayo.
Maggie also carries another nickname. "Mad Dog" She got it while golfing, going up to the tee to hit, there was an announcement over the loud speaker that Maggie "Mad Dog" Cincotta was up to crush the ball. After that it just stuck.
Maggie is looking forward to traveling to World Finals this year to compete on Rayo in the Young Guns with her family and Robin.
Both girls have ridden hard and well this year. They come prepared and are always ready to ride. They are always waiting for each other after their runs with a high five. I am very proud of both of them. They display tremendous sportsmanship… We can all learn from them as an example and make some new friends along the way.

2010 EXCA WORLD CHAMPIONSHIPS
The 2010 EXCA World Championship is only eight weeks away! Make your plans to be in Topeka, Kansas ,November 12 -14 for the thrills and excitement of watching "the best of the best" from the United States and Canada give it all they've got to win the title of EXCA World Champion!
Cash payback and prizes will be awarded to the top 5 in each Division, with 100% of the entry fees be paid back to the winners. In addition to the cash and prizes, the World Champion and Reserve World Champion from each Division will receive a beautiful EXCA World Championship buckle.
Entry forms are now available on the EXCA Website
There will be two host hotels this year. The Capital Plaza Hotel located next to the Expocentre will be available at a cost of $69 per night plus tax. The phone number is 785-431-7200. The Ramada Hotel and Convention Center, located at 420 SE 6th St. will be available at $69 per night plus tax and will offer a free hot breakfast each morning plus two free drinks each night of your stay. The phone number is 785-234-5400. The Ramada is approximately 10 minutes from the Expocentre. When you make your reservations at either hotel, be sure to ask for the Extreme Cowboy Association room rate.
Tickets are available on the EXCA website. Each contestant will receive one free companion pass that will be valid for the entire weekend.
We look forward to seeing you in Topeka!!

EXCA Judges Clinic
December 5 - 7, 2010
Double Horn Ranch
Bluff Dale, Texas
Phone: 254-728-3082
Email: doublehornd@lipan.net
Cost: $650.00 includes lodging plus breakfast and lunch on Saturday & Sunday. Beds at the Ranch are available only on a first-come, first-served basis. Once available clinic beds at the Ranch are filled, clinic attendees will be responsible to make their own arrangements for lodging in Stephenville or Granbury.

Description: This is a special clinic for Extreme Cowboy Association™ judging applicants. Upon successful completion, each applicant will receive "Gold Certification" as a Level 3 Judge. The clinic will be led by EXCA founder, Craig Cameron. Craig will offer instruction with live judging opportunities on the original Extreme Cowboy Race course as seen on RFD-TV. This clinic will fill fast – Sign up now!

Check-in: 3:00 p.m. Sunday, December 5th. Clinic concludes at 4:00 p.m. on Tuesday, December 7th.